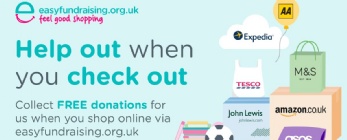 Help us raise money for FREE every time you shop online!
Published 07/11/17
Dear Parent / Carer,
Here at St. Martin's School we are committed to providing our learners with the very best 21st Century learning opportunities. As a school we have invested heavily over the last two years in new technologies, however as part of our ongoing development as a digitally competent and google school, there is a lot more we would like to do to enhance your child's learning experience. We want to to invest in ipads, chrome books and a new google suite for students to undertake their studies in.
We've signed up to the 'easyfundraising' website in a bid to strengthen our investment, but we kindly need your help and support. Easyfundraising is a free and easy way to raise money with no cost to you or the school.
Please see below the video and some Frequently Asked Questions to help you understand fully how easyfundraising works.
We'd like to take this opportunity to thank you in advance for supporting us with this initiative and look forward to sharing with you the changes we are able to make as a result of your help.
https://www.easyfundraising.org.uk/causes/stmartinsschoolcaerphilly/
Read More