The Big Sleep Out
The Big Sleep Out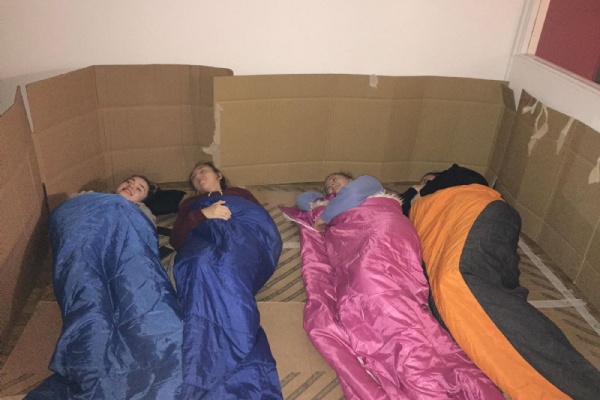 The Big Sleep Out
On Friday 31st January 2020, 19 students took on the challenge of 'sleeping rough' for the night at St Martin's School, Caerphilly. They did this as part of their Welsh Baccalaureate project in an attempt to raise money and awareness for the homeless.
As part of the challenge students walked three miles in the dark and rain in order to try and experience the average ten miles a homeless person walks a day in order to find food and shelter. Students worked as teams to build their shelters for the night and watched two short documentaries regarding homelessness in the UK. They also had basic soup and roll rations in line with a typical soup kitchen meal. Students were asked to write a reflection following the experience and shared that 'the most difficult thing was how cold it was' and 'everyone deserves a home'. One student noted that their 'opinion on homeless people has changed entirely' and that they 'feel sorry for those people who have to do this every night'.
Students were a credit to themselves and the school and took on this challenge wholeheartedly with dignity, respect and care. They raised an incredible £733.28 which has far exceeded the initial target of £500. With that in mind we have now extended our target to £1000. If you would like to donate you can please do so here: justgiving.com/fundraising/stmartinscaerphilly
All monies raised will be donated to Llamau who are the leading homelessness charity in Wales, supporting the most vulnerable young people and women.