Connecting Classrooms - Session 1
Connecting Classrooms - Session 1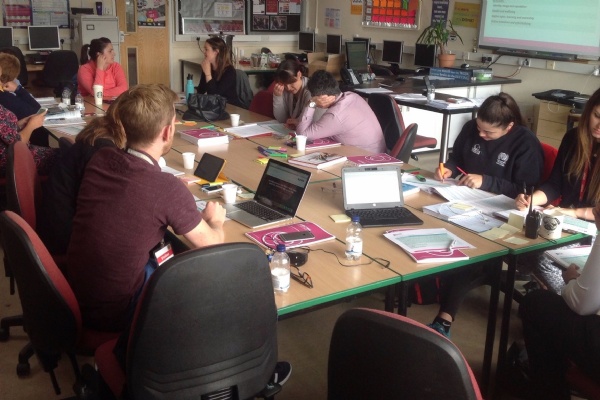 Written by Miss L. Banks, Head of English
DCF. Three letters that can sometimes make teachers feel a bit uneasy. Am I digitally competent enough to lead my pupils through an activity linked to the Digital Competence Framework? Is there time for the DCF in my curriculum area? What does it even mean to be digitally competent? I can admit it: there have been times I've asked myself these questions.
Cue Paul Tyack of Think Learn Challenge! (in conjunction with the British Council) who delivered an informative and, importantly, reassuring twilight session for representatives from every faculty. We'd all completed our pre-session homework which encouraged us to consider our thoughts on digital literacy after reading some short definitions.
Individually, and then in groups, we devised our 'golden sentence' that summarised digital literacy for us. Key words included: safe, collaborate, evaluate, responsible, technology, broaden, discerning, enable and access. This was an important exercise at it made it clear that the time we were about to spend on this project could have a significant impact on our pupils and ourselves.
The rest of the session comprised input from Paul on the importance of digital literacy and lengthy discussion about how the concept can be implemented best at St Martin's. Perhaps the most significant idea for me was the notion of democracy: digital technologies are becoming embedded in many aspects of our lives, work, social relationships, culture and ways of learning. How will pupils be able to experience the world if they are not digitally literate?
We discussed our roles as educators. Twenty-first century teaching requires pupils to be more than passive recipients of knowledge and exploring the DCF is a way of encouraging pupils to be active participants – and encouraging ourselves to let them!
I look forward to the next session when we will discuss in more detail the aim of the course: to devise, implement and evaluate a strategy that helps us and our pupils become more digitally literate.